Now is Still a Good Time to Buy a House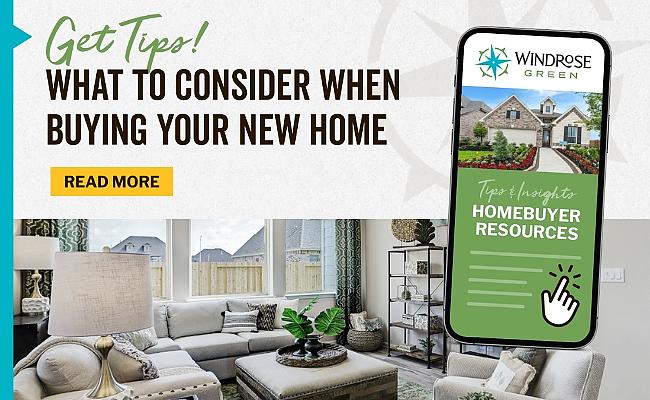 With the surging mortgage rates and article after article telling you that now is a terrible time to buy a home, you may be wondering if you should take the plunge anyway to buy your dream house. While it is true that mortgage interest rates are still high, they are starting to come down. The selling slowdown is putting more power back into the buyers' hands.
Many out there see similar signs to the 2008 housing market crash, but that is not looking to be the case for 2023. Compared to 2008, there are more regulations and restrictions in the mortgage market. The National Association of Realtors is predicting a return to normalcy after the past couple of years.
Owning a Home v. Renting a Home
Depending on your life circumstances, renting a home may be more beneficial than becoming a homeowner. Is your lifestyle very flexible, and you're not ready to stay in one place for a long time? Are you just starting to save money, or are you financially insecure? Renting is a better option. However, if the stars are aligning and you feel ready for homeownership, owning over renting has its benefits.
Rents keep rising everywhere, which eats into your budget. Owning a home saves you from annual rent increases.

Even when the rent rises, you don't get any extra benefits or amenities for living there.

Being a homeowner means you gain equity as house prices rise and you continue making your mortgage payments.

Since inflation is high, you can use homeownership to hedge against it. With your lender, you can lock in your monthly payment for 15-30 years.

You can customize your home as an owner, which you can't do as a renter.

Depending on the type of home, you get more privacy when buying versus renting.
If you are still deciding whether buying or renting is for you, consult with a realtor or one of our builder representatives to discuss your options and what types of homes could work best for you.
Is Now Really a Good Time to Purchase a Home?
Yes. Being financially ready is more important than timing. You should organize your finances and make sure your credit is in order. These two things will help you to secure your mortgage for more reasonable rates. There are six things to factor into your budget other than the principal amount and interest now that you know buying a home is still a good thing.
Property taxes

: People often forget these. Check your rates.

Homeowners insurance

: Incredibly necessary, and the amount you pay depends on so many factors that you need to discuss with an insurance agent.

Homeowners Association fees

: These fees are dependent on the area you move to.

Private mortgage insurance

: This type of insurance tends to be for those who put down less than 20%.

Closing costs

: These frequently overlooked costs quietly creep up on you until the actual closing on your home is coming up.

Set a budget for ongoing maintenance and unexpected repairs

: The amount you set aside depends on your finances and what you feel comfortable setting aside. There are usually fewer unexpected costs with new construction homes.
Now that you have your finances squared away and houses aren't flying off the market, buyers have more bargaining power. The interest rates might scare away some buyers who don't have their budget ready to go. So, there is less competition driving the price of homes up to help you feel like purchasing a new house is less risky.
Things to Consider When Buying a Home
Whether you are buying your first home or a new home, it is a very personal choice about where you plan to spend time. As one of the largest single purchases you will make, there are some things to consider before making this decision.
Your financial position.

You don't want to buy a home that you can't afford once you're in it. There are mortgage calculators available on the internet to help you estimate your monthly payment based on your downpayment and your potential interest rate.

The area you are searching for your home.

Affordability. Are you searching for an area you love or can afford to live in? Try searching in an area that fits your budget and see if you can find a home you love there. The more you have to give up to buy your home, the more likely you'll have buyer's remorse and a house you can't afford.

How long are you planning to live in the house?

If you plan to live in the house for five or more years, then now is a good time to buy over rent.
While these aren't the only considerations, they are some major ones. If these set you over the edge and you are ready to take the leap into homeownership, financing is your next step.
Financing Your New Home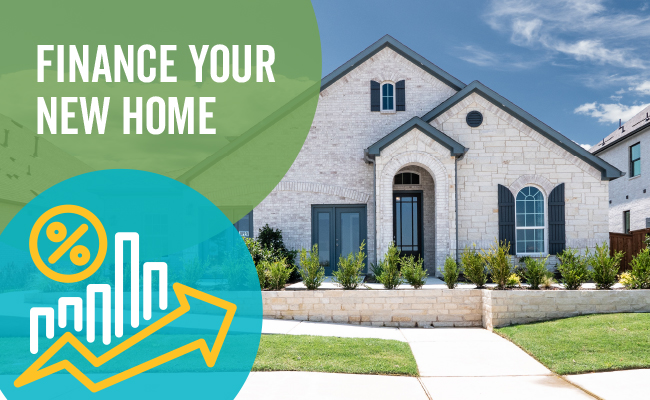 Now that you know it's a good time to buy a home, you made considerations, and your finances are in order. So, what comes next? Next is figuring out how to finance your dream home. There are different types of loans out there for your financing options.
Conventional Loans
A conventional loan is more or less what it sounds like. This type of loan follows standards Fannie Mae and Freddie Mac set and is uninsured by any government agency.
FHA Loans
FHA loans are insured through the Federal Housing Administration and are considered less risky for lenders. FHA loans go through private lenders. They are great for first-time homebuyers.
VA Loans
VA loans are insured through the U.S. Department of Veterans Affairs and don't require a down payment. Eligibility requirements for VA loans are being an eligible member or veteran of the U.S. Military, U.S. Military Reserves, National Guard, or a spouse of a military member who died on active duty or because of service-related disabilities.
Discuss with your preferred lender about what type of financing will work best for you.
Refinancing Your New Home
Even though interest rates are still high, there is always the option to refinance later. The term refinancing is a little bit misleading, though. What it means to refinance your mortgage is to essentially redo it to replace your old loan with a new one. In some cases, you can refinance your mortgage immediately; however, you have to wait at least six months for most loans. When going into a refinancing of your mortgage, know what your goal is with the refinance and have the paperwork ready like when you were first buying the house.
Why Refinance?
There are many reasons to refinance your mortgage. Considering that you are buying a new home while interest rates are high, there are a few to keep in mind.
Lower your interest rate

- Refinancing to lower your interest rate (especially if you bought a new home while rates were high) can lower your mortgage payment by hundreds of dollars to save you money.

Lock in a fixed-rate mortgage

- Some people don't like adjustable-rate mortgages (ARMs) when they believe interest rates are going to rise. Moving to a fixed-rate mortgage guarantees the interest rate won't rise. Still, it may result in an overall higher interest rate than what you are currently paying. Fixed-rate mortgages give you a consistent monthly payment.

Pay off your mortgage sooner

- You may have a 30-year mortgage and want to pay it off sooner and reduce the amount of interest you owe. Converting a 30-year mortgage to a 15-year mortgage will do the trick.
There are many more reasons you may refinance your mortgage. Be sure to shop around to find the best deal for whatever your reasons are, especially since refinancing isn't free. It is recommended to get three different quotes.
What Are Builder Incentives?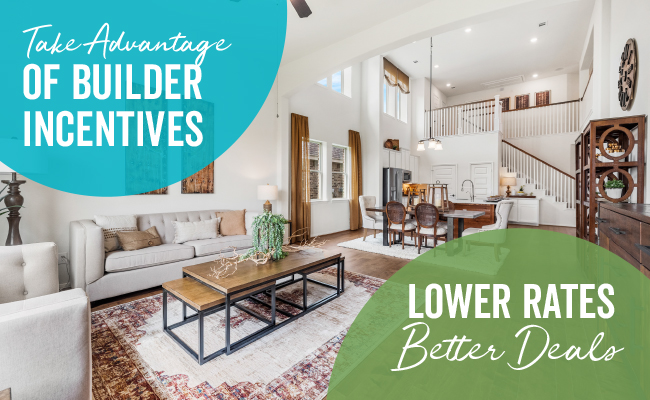 In short, a builder incentive is a promotion offered by developers or builders in a community that helps cut the cost of buying a new home in that specific community. Builder incentives vary from community to community and from builder to builder. Incentives can become available at any stage of the project's development. You will only find builder incentives with new construction homes.
How do Builder Incentives Help Me Purchase a New Home?
Builders tend to offer different types of incentives for buyers of new construction homes. When you are looking at builder incentives, be sure to note the beginning and end dates. Any available builder incentive won't last forever, so make sure to take advantage of them while they are available.
Different Types of Builder Incentives
With a variety of incentives available, here are six types of builder incentives out there. This list isn't exhaustive, and not every builder and community offers these types of incentives.
Property Taxes

- Some builders offer the incentive to pay the property taxes on the new home for a limited range of months.

Mortgage Payments

- Some builders offer to pay a certain amount of mortgage payments for the new homeowner.

Insurance Payments

- Builders may be willing to pre-pay insurance for a certain amount of time, but make sure that the deductibles are reasonable. Be sure to get all the details when it comes to this builder incentive.

Closing Costs

- A common incentive covers some to all of the closing costs associated with your new home.

"Free" Upgrades

- When builders offer this incentive, they can include certain types of countertops, appliances, swimming pools, finished basements, etc.

Lower Prices

- This builder incentive is exactly what it sounds like. It's an incentive that discounts the price of the new house.
Be sure to talk to your new home builder, contact the community or talk to your real estate agent about builder incentives that you qualify for and are available to you.
Find Your Way Home with a Windrose Green Home
Windrose Green is the first large-scale development with new homes for sale located in Angleton, TX! Within its 154 acres, Windrose Green will provide a wide range of family-friendly amenities and access to two beautifully landscaped lakes. World-class home builders CastleRock Communities and K. Hovnanian Homes offer the perfect balance of style and functionality on their high-quality, beautifully designed new homes. Talk with our home builders to see how you can make Windrose Green your new home.